Top 3 Players Montreal Needs Inquire About To Put A Dent In The Soccer Community
Joey Saputo has it all wrong.
Having visited many times, Montreal is a European city stuck in North America. The soccer fans want a face that they can recognize and until they do this, I believe Montreal will continue to struggle with attendance. With almost
68% of the 3.8 million people
in the greater Montreal area listing French as their first language and the city decided having a French culture, French players are needed.
Here are my Top 3 choices of players that Joey Saputo needs to inquire about:
1. Florent Malouda
The 32 year old French International has had
recent troubles
concerning his play at Chelsea. Basically exiled from the team, Malouda has not appeared in a game for Chelsea since the tail end of the 2011-2012 campaign. As of three days ago, The Sun has said that
Chelsea are willing to let him walk for free
. Why not bring in the troubled winger into camp and see what he has left in the tank?
Chance of joining Montreal: 25%
2. Patrice Evra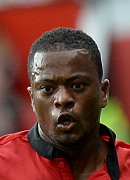 Via soccernet-assets.espn.go.com
As much of a long shot this sounds lets not forget he is 31 years old. His playing time is bound to diminish in the coming years. Not only that but fellow friend Thierry Henry is still in the league. This may take a couple years for Saputo to develop a relationship with Evra but over time he might convince the Manchester United star to try out Montreal.
Chance of joining Montreal: 10%
3. Andre-Pierre Gignac
Via Espoirsdufootball.com
Chance of joining Montreal: 5% (I'll put it at 10% if he ends up being the highest paid player in the league)
More French players are out there. Let your voice be heard in the comment section. Who should be the first big French player to come to Montreal?