By Dan Huntington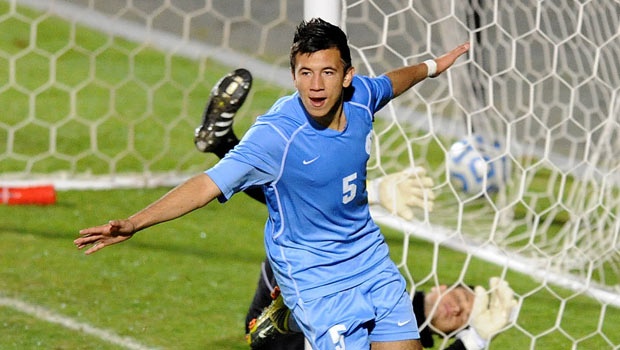 Mikey Lopez
In most years, the MLS offseason is somewhat unexciting. Sure, each team has their share of players who get traded or released with new guys coming in to take their place. If fans are lucky, maybe the team signs a big-name Designated Player from England, Spain or Germany. Typically, in the days leading up to the MLS SuperDraft, these transactions take a back seat and conversation is dominated by which players looked the best at the combine, what type of system fits them the best, and where they might end up on draft day.
For Sporting Kansas City, though, the week leading up to the SuperD
raft was anything but typical. In the span of one week, it was announced that Kansas City would be hosting the 2013 MLS All-Star game, LIVESTRONG Sporting Park would no longer be called LIVESTRONG Sporting Park, the team will have a jersey sponsor for the first time, and they selected a young midfielder with the 14
th
overall pick in the draft.
Let's start with the 2013 MLS All-Star game. On January 10th, MLS Commissioner Don Garber arrived in Kansas City and announced that Sporting KC manager Peter Vermes would coach the MLS All-Stars in the July 31st exhibition. The game will be played at Sporting Park against an opponent still to be determined. "This market has just been so incredibly exciting for all of us at Major League Soccer and really for soccer fans throughout the United States and really throughout North America. This has been one of the great success stories for our sport. We're very proud of what has taken place here," said Garber. Sporting CEO Robb Heineman added: "The stadium is a nice place but what is far better are the people that fill it." It is too early to speculate on who the opponent might be, but I would like it to be a top team in a league other than the English Premier League, just to change things up a bit. I would love to see Real Madrid or Barcelona from La Liga (Spain), Bayern Munich or Schalke from Germany's Bundesliga, or Inter Milan or Juventus from Serie A (Italy).
In the days following the All-Star game announcement, the city was abuzz with excitement. At least, it was until January 15th, when reports surfaced that Lance Armstrong decided to grow a conscience and admit to what 99% of all sports fans already knew: that he had used performance-enhancing drugs during his run to seven straight Tour de France titles. When it was announced back in 2011 that LIVESTRONG was going to be the stadium sponsor, my first thought was "Why?" Why would the club want to associate itself with an organization that is synonymous with someone whose reputation was, at the very least, suspect? Heineman admitted on a recent radio show that Sporting's ownership group knew there were downside risks with having LIVESTRONG as the stadium sponsor, but believed those risks to be minimal. In addition, when discussing naming rights before the stadium first opened in 2011, Heineman noted that Sporting had "a couple nibbles here and there, but I wouldn't say it was anything overwhelming." Translation: LIVESTRONG was the best option the team had at the time.
But once the stadium opened and the team started winning, those questions were quickly forgotten by most fans. Add to it the fact that a portion of every dollar spent in the stadium was donated to cancer research and you could actually feel good about spending $8.50 on an adult beverage or two during the match. There have been a gazillion articles written about whether it was LIVESTRONG that actually terminated the agreement with Sporting or vice-versa. LIVESTRONG claims Sporting has only paid $250,000 of the $1 million it is owed by the club from 2012. Sporting claims that it has paid everything it owes and terminated the agreement because of permanently damaged faith and trust. But, the bottom line is that in the early-morning hours of January 16th, the LIVESTRONG name was removed from the stadium. Whoever the naming rights go to on this go-round, I think it is safe to say that the club is in a much stronger position to field many more lucrative offers than they saw in 2011.
The arrival of the MLS SuperDraft on January 17th was a welcome diversion from all of the LIVESTRONG/Lance Armstrong talk. The first bit of news occurred when Sporting announced that Ivy Funds, a local investment firm, would became the first-ever jersey sponsor of Sporting KC. Aurelien Collin, Sporting defender and fashion guru, was on-hand at the draft to model the new kit.
The second, and to most of us, the more important bit of news occurred when Sporting selected Mikey Lopez with the 14th overall pick. Peter Vermes said he did not expect Lopez to still be available at 14 so the club jumped at the opportunity to take the 5'8", 19-year-old midfielder. Lopez attended the University of North Carolina and is a Generation Adidas signee, meaning that his salary will not count against the salary cap. In his two years at UNC, Lopez scored five goals and had five assists in 46 matches. He also spent time on the U.S. Under-18 National Team and is currently with the U.S. Under-20 National Team (Sporting backup goalkeeper Jon Kempin is also a member of the U-20 team). It appears almost inevitable that current Sporting midfielder Graham Zusi will make a move to Europe, most likely to West Ham United of the English Premier League. With this in mind, Lopez adds quality depth at this position, although in reality, he is still probably a year or two away from being able to make a significant impact with the club. According to Vermes, Lopez has "leather lungs" and can run 18-to-18 all day long. Scouts who have watched Lopez play say that his main weakness is technique, but Vermes believes that is a relatively easy thing to correct and notes that all players need to continue to improve their technique. I still would have preferred Sporting to take a quality forward because I believe the depth at that position is more of an issue than it is at midfield, but I don't dislike this pick. Vermes has proven that he has an eye for talent so if he believes Lopez will turn out to be a quality midfielder, he deserves the benefit of the doubt.
Whew. Deep breath. With the team departing for Tucson, Arizona to begin pre-season training, let's just hope the rest of the pre-season is a little bit more typical of years past.